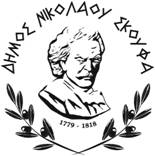 The Municipality of Nikolaos Skoufas, started operation on the beginning of 2011, after the reform of Kallikratis Plan in Greece. It is based in Peta and resulted from the merge of the municipalities of Peta, Arachthos, Kompoti and Kommeno.
The Municipality of Nikolaos Skoufas is named after the national hero and founder of the Filiki Eteria, Nikolaos Skoufas, who was born in Kompoti and dedicated his life to the Greek National Revolution.
Moreover, the Municipality's land is historic, as the Battle of Peta took place there, on July the 4th, 1822. In that battle, Greeks and Philhellenes sacrificed their lives against the Ottoman occupation. In addition, on August the 16th, 1943, the holocaust of Kommeno took place there, in which 317 civilians were slaughtered by the Nazi troops.
The Municipality of Nikolaos Skoufas lays in a land of unique beauty, with impressive geographical variations in natural landscape.
In the northern part lays Peta, named for the traditional Square, the Church of Saint George, the Monument of Philhellenes, the Monastery of the Virgin, the Folklore Museum and the beautiful artificial lake of Pournari. From Peta you can enjoy the panoramic view of Arta and Amvrakikos Gulf. In the same area you may visit the villages of the Klisto, Zigos, Markiniada, Megla and Melates, which offer breathtaking view of the lake.
On the south side, the villages of Agios Dimitrios, Neohoraki, Amphithea and Megarchi are located.
Situated in the center of the Municipality is the village of Kompoti. In Kompoti, you can visit the Turkish outposts, the port and the Environmental Centre of Koprena, the Ramma Beach at the Amvrakikos Gulf, and the villages of Selades, Fotino and Peranthi.
Arachthos river flows on the southern part of the Municipality. Around that area you can find small rural villages, like Sykies, Loutrotopo, Neochori, Pachikalamo, Akropotamia, Anthotopo, Agia Paraskevi, Kolomodia and the historic village of Komeno.